Coronado Cross
Ford County, Kansas

(Francisco Vasquez de Coronado, 1541)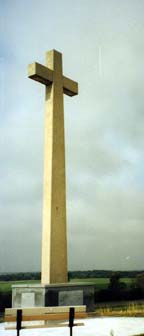 Francisco Vasquez de Coronado, a Spanish nobleman, set out from Mexico in 1540 to find the fabled cities of gold. Thirty horsemen, foot soldiers, guides and a Franciscan Friar, Juan de Padilla, who wrote a dairy, accompanied Coronado.
     On June 29, 1541, after much hardship, the group crossed the Arkansas River (called the St. Peter & St. Paul River) near present day Fort Dodge, Kansas. Father Juan de Padilla held a mass of thanksgiving on the nearby hills, the first Christian service held in the interior of the continent, predating the landing of the Pilgrims almost 100 years.
     Wanting to have a permanent memorial of the event, the Ford County Historical Society sponsored a cross marking the location. The project was a Bicentennial effort, starting in 1974. The 38-foot tall cross, made of pre-stressed concrete, was erected in June 1975, on a hill in a 10-acre native grass prairie park donated by Mrs. Karl Miller and family. Her late husband, pioneer Judge Karl Miller had lived on the ranch where the Coronado Cross now stands. He had marked one of the hills with a wooden cross in 1940. The base of the Coronado Cross gives a brief history of Coronado's Expedition and about the Native Americans that lived here.
     Located one and a half miles east of Fort Dodge, the Coronado Cross Park allows a view of the unplowed prairie across to the Arkansas River and the Fort. Stand where Coronado stood, where the Santa Fe Trail passed and the soldiers of Fort Dodge kept watch.
(© 2002, Ford County Historical Society, Inc.)